2007 Reviews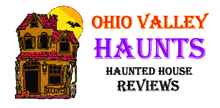 "Some of the most intimidating characters around, aggressive and downright hardcore!"
"As intense as ever!"
"More Chambers, a longer path, and enhanced entrapments"
"It's pretty easy to suffer an emotional meltdown!"
"One of the most reasonably priced haunts around, yet one of the all-time best."

"The Chambers of Horror is a dark and sinister haunt that will play on your fears every which way you go. The actors are intense and many scenes are inventive. You'll have a difficult time not feeling nervous turning the next corner."
"Chambers has become a haunt that shouldn't be missed out on and the new additions are worth a visit"
href="http://reviews06.ohiovalleyhaunts.com/#Chambers" target="_blank">
Have you been to the Chambers?
Buy Drug Online
Buy Zovirax Online
Free Wallpapers
Tuning
Job
Online Education